Accessibility Features in Days Gone
Kevin McAllister
We aimed to provide more accessibility in Days Gone to ensure all players can have a great gaming experience. Whether you are playing on the PlayStation 4, PlayStation 5, or PC you can utilize our various accessibility features to fit your needs. Our team is very proud to have built a foundation for accessibility with Days Gone, and we hope to continue to deliver and reach more players from a range of backgrounds and abilities.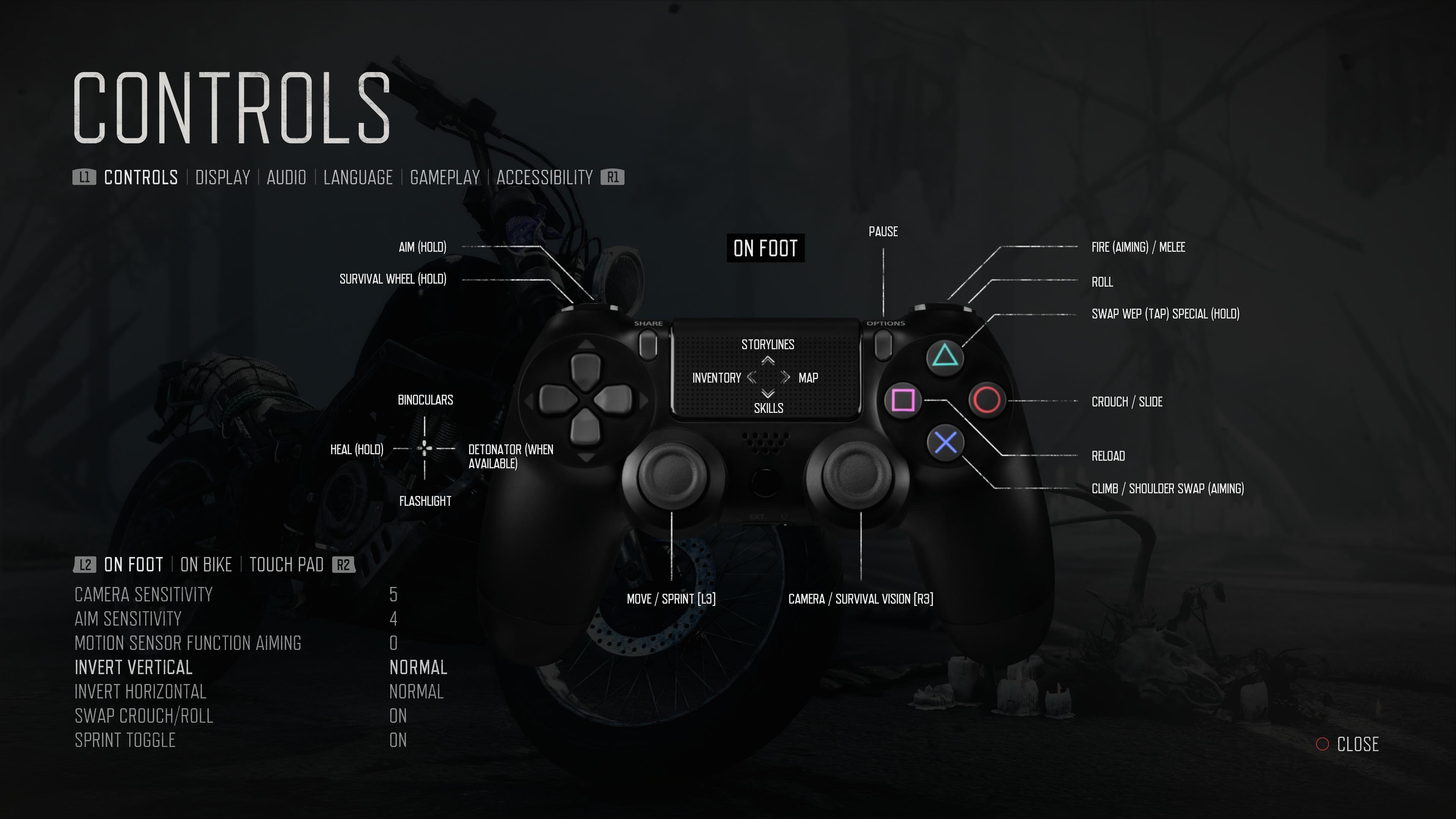 INVERTED HORIZONTAL/VERTICAL CAMERA CONTROLS
You have the option to invert both the Vertical and Horizontal cameras in-game.
CAMERA FOLLOW TRACKING
Enabling Camera Follow Tracking will allow the camera to slowly follow the player when turning.
DISABLE CONTROLLER SPEAKERS
You can disable the Nero recordings played from your controller speaker. This will reroute to your normal audio output device.
SUBTITLE SIZE
Adjust the size of the subtitles from small (default), medium, and large.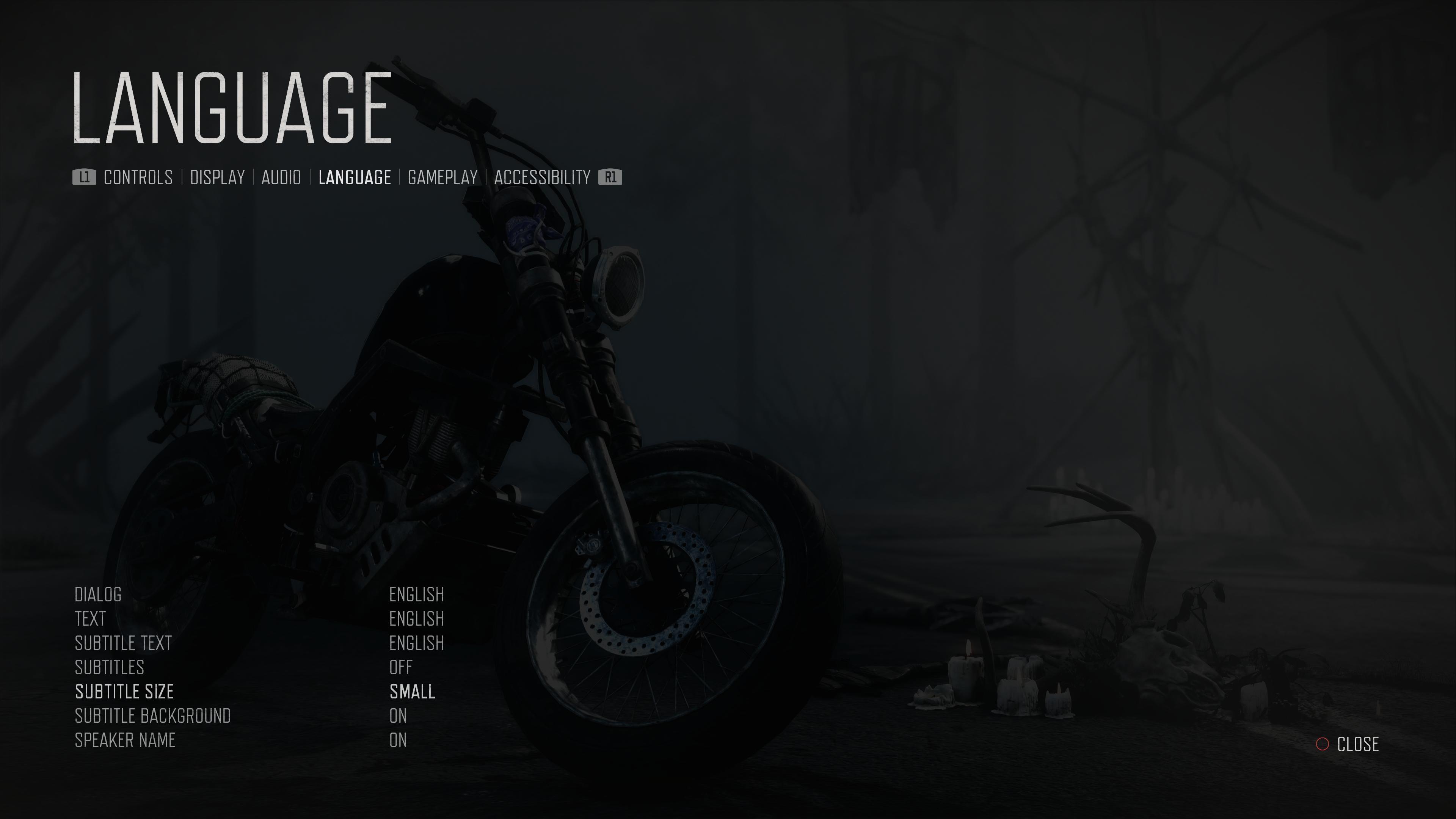 SUBTITLE BACKGROUND
Change the subtitle background by making it transparent or disabling the background entirely.
SUBTITLE SPEAKER NAMES
Disable the speaker's name from appearing in front of the subtitles. The speaker's name will be set to 'on' by default.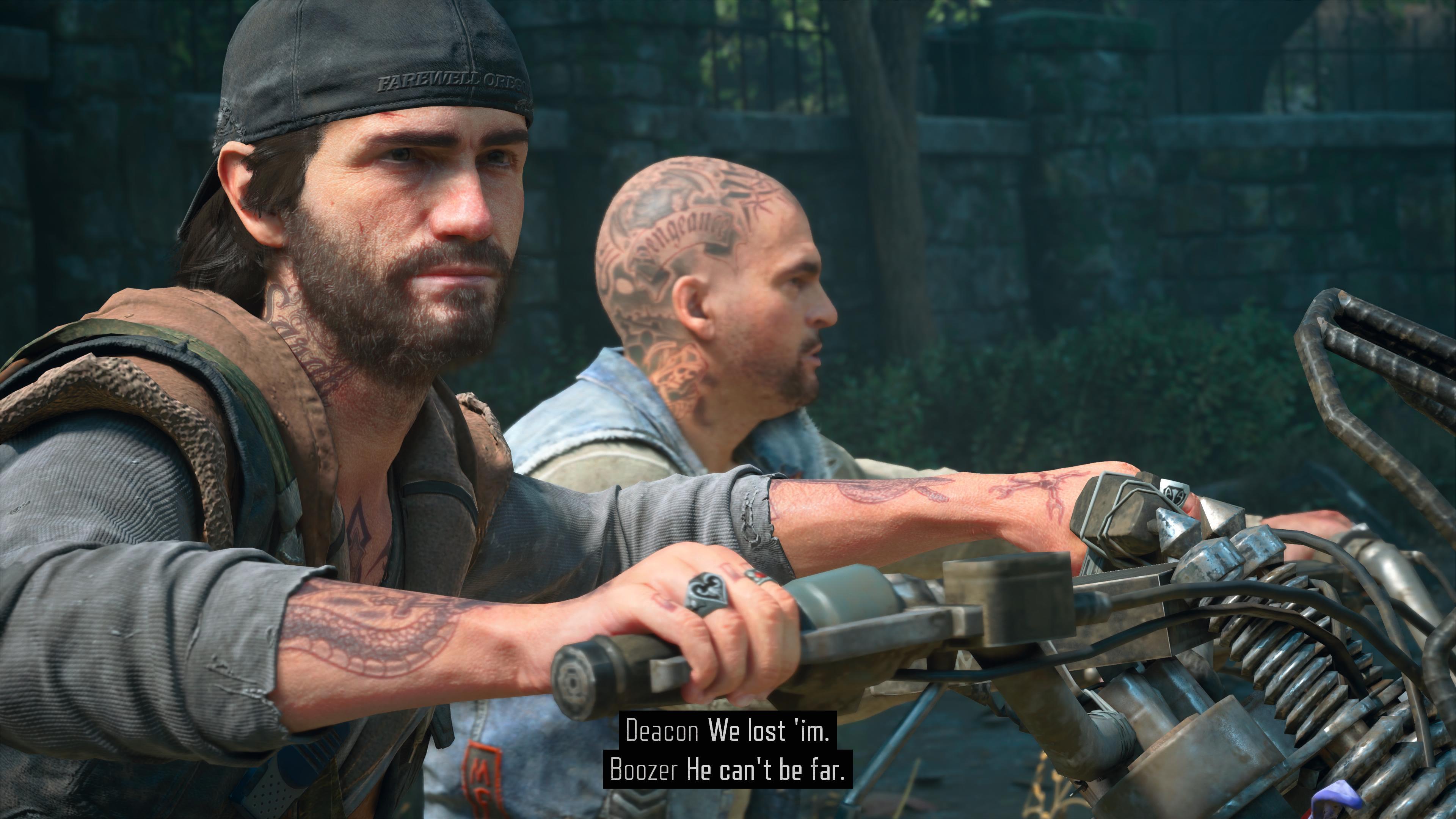 REPEATED BUTTON PRESSES
Instead of repeated button presses during a grapple event, you have the option to change the tap to a hold. Hold the required button for a certain amount of time to complete the same grapple event.
REPEATED BUTTON SIZE
You can adjust the size of repeated button icons; small (default), medium, and large.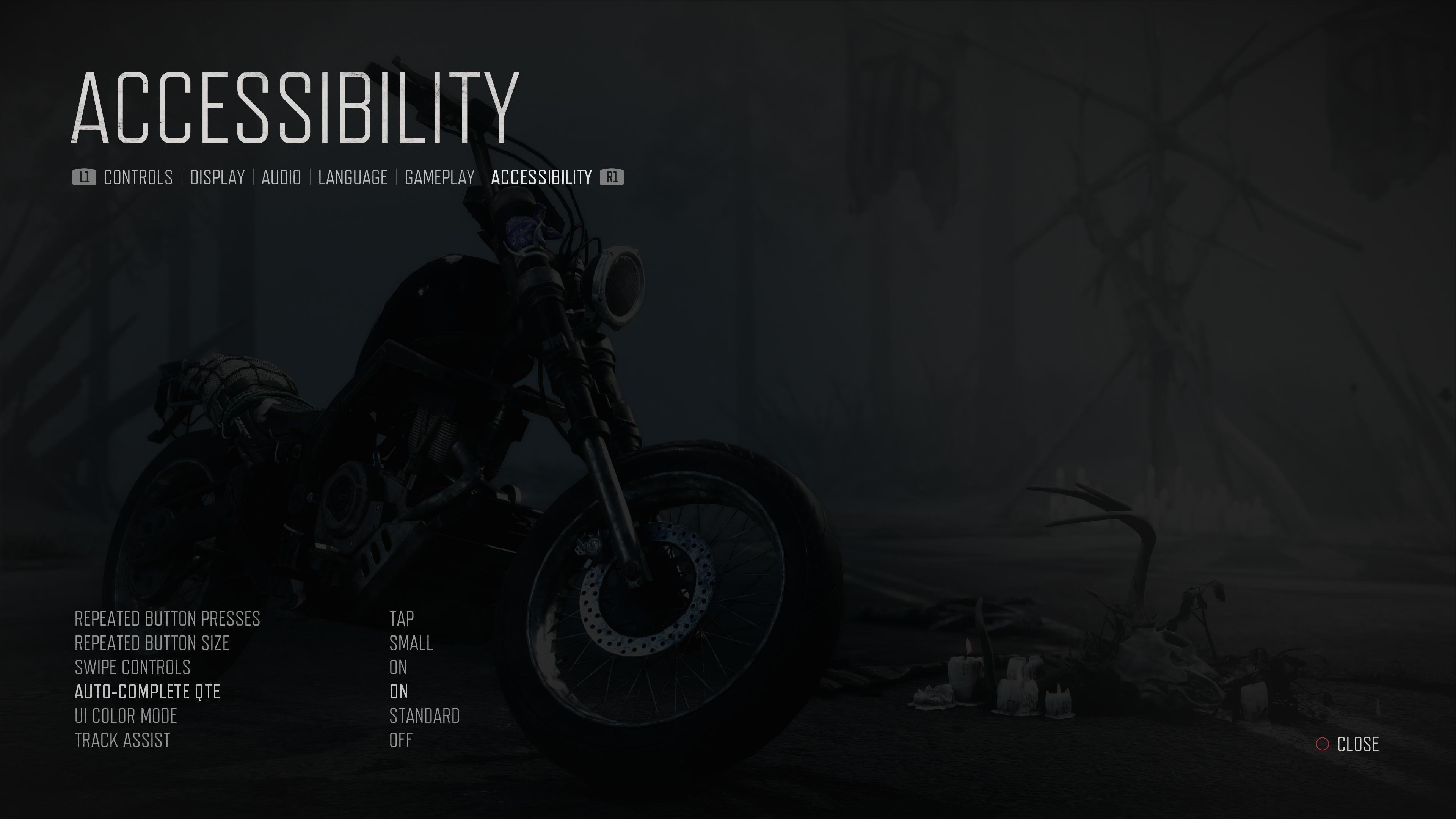 TOUCHPAD DEAD ZONES
You can change the dead zones on the touchpad by adjusting the vertical and horizontal deadzones, and swipe lengths in the touchpad menu.
PC: Works only with DualShock 4 and DualSense if not using Steam Input.
MOTION SENSOR FUNCTION AIMING
Adjust your aiming by rotating the Dualshock 4 or Dualsense to increase the sensitivity.
PC: Works only with Dualshock 4 and DualSense native, not using Steam Input.
AUTO-COMPLETE QTE
This feature (only accessible in Easy difficulty) will automatically complete all the in-game grapple button events without the need to press any buttons.
DEAD ZONE SENSITIVITY
Adjust the dead zone sensitivity of your controller from small, medium, and large to fine tune the stick movement on your controller.
Aim Snap: (Mouse & Controller) If you are looking at an enemy and press the aim button, the aim cursor will snap to them.
Aim Stickiness Sensitivity: (Controller only) If you are aimed at an enemy, the cursor will track the enemy with assistance automatically.
Aim Friction Sensitivity: (Controller only) If you move your aiming past an enemy, the cursor will slow down over them.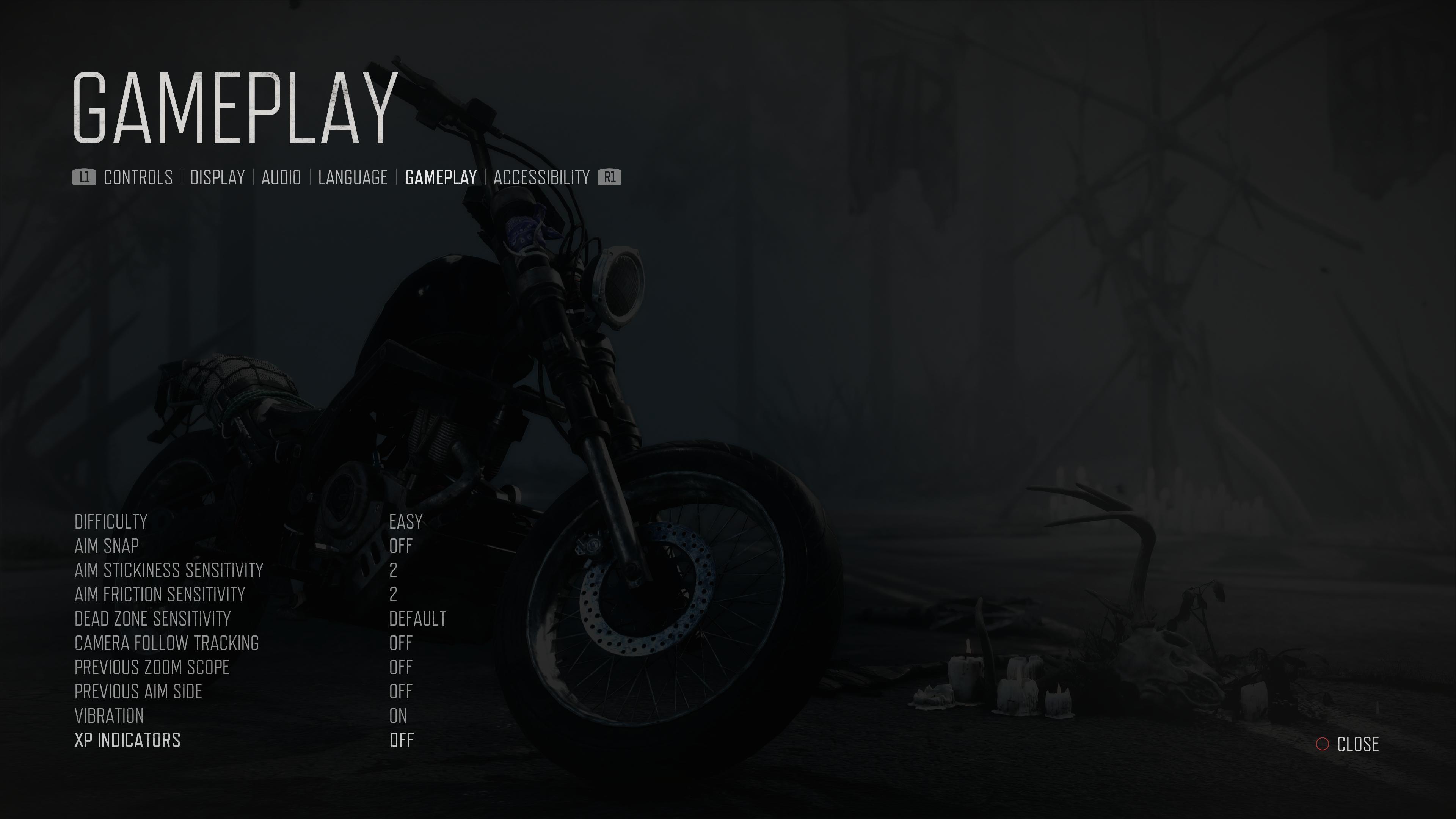 UI HIGH CONTRAST COLOR MODE
Enable High Contrast for certain key HUD elements on screen to swap color palettes and become easier for you to see.